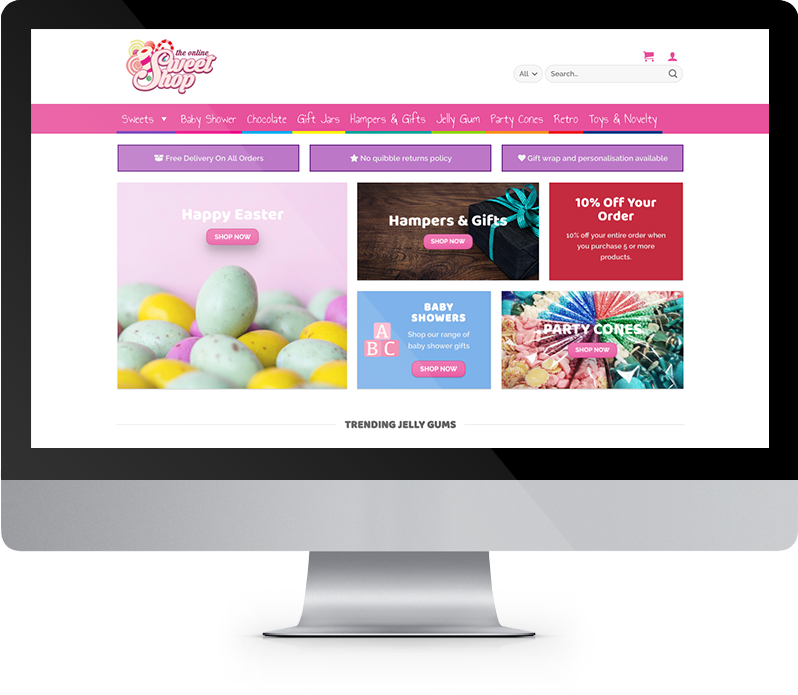 Client: The Online Sweet Shop
Website URL: https://theonlinesweetshop.com
theOnlineSweetShop provide sweets, chocolates, gift hampers and party cones online.  They came to Cube looking to replace their under-performing and over-complicated Magento website with something that they could easily maintain, manage and market.
We were able to work with their budget to create a new WooCommerce website that ticks all their boxes and some more.  The site was designed to represent a traditional sweet shop, with some modern touches.
We worked with theOnlineSweetShop to create an e-commerce website powered by the WooCommerce platform.
Whilst traditionally a blogging-system, WordPress has evolved over the years and their changes include the introduce of WooCommerce which provides online retail capabilities.
The project includes the following business solutions:
Shipping labels, packing slips and manifests can be produced quickly and in bulk
eBay integration meaning that the website inventory can be listed onto eBay directly from their website
Secure payment processing including card payments and Paypal
Easy-to-edit pages – text, images, link and banners can be edited by the client with no need for additional design/development fees
Customers can personalise their products
Sales reporting
Inventory import and export
Live chat
Email and newsletter subscriptions
Google AdWords configuration for paid advertising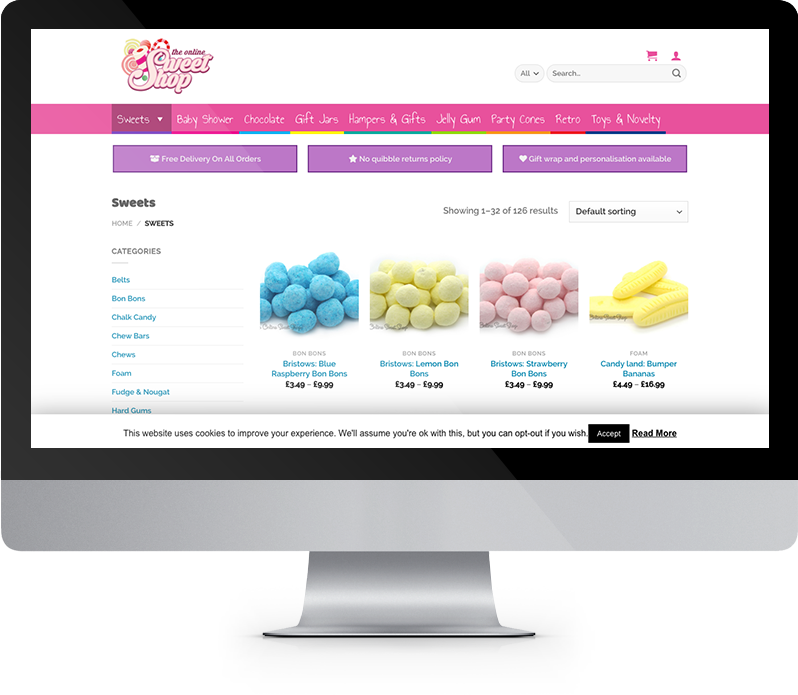 E-Commerce design and development
Our e-commerce solution for theOnlineSweetShop includes branding, web design, development, web hosting and digital marketing – the whole package really.
The original Magento site they had was too complicated for their needs.  Whilst Magento can be the ideal solution for certain clients, in this case it was just a bit overkill.  The WordPress interface, with which the client was much more familiar with already, became the obvious option.
The new website has seen the introduction of hundreds of new products added to the inventory, and from our digital marketing we've seen better traffic, conversions and ultimately, more revenue for the client than they've had in the past 3 years – and the results continue to get better and better!
Our new website is terrific! It's nice to look at and has brought us so many more customers.  Our original website was so hard to manage that we didn't get much done with it.  The new WooCommerce site is a lot better in every way.  We've seen more customers and more sales, we're able to add new items to our store very quickly, and the setup with eBay is the best time-saver.
We would definitely recommend Cube to anyone looking for someone to handle their website needs.  They were open and honest, provided us with options on how we could keep the existing site or get a new one and with their advice we were able to make what's turned out to be the correct choice and got us a new WooCommerce site.
Looking For An E-Commerce Website?
Use the form below to get in touch with Cube Websites.  We'll be in touch to discuss your requirements and provide a free no-obligation quote for your e-commerce project.