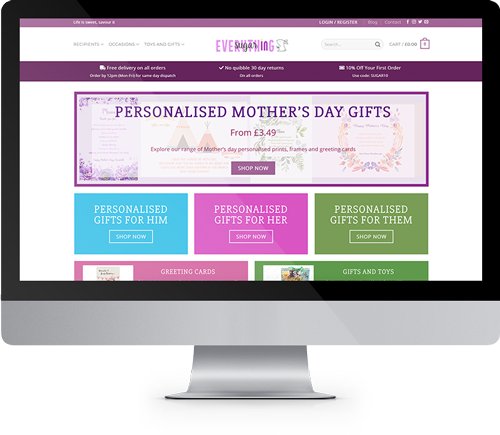 Client: Sugar In Everything
Website URL: https://sugarineverything.com
 Sugar In Everything came to us looking for a solution for their gift business which specialises in personalised prints, posters and frames.  They were already operating offline and required our assistance with creating their online presence.
We were able to provide Sugar In Everything with a powerful solution to complete their online sales on both their own website and on eBay. Key features include:
WooCommerce powered e-commerce website
Full eBay integration to synchronise products and orders
Integration with shipping service to quickly purchase and print postage labels.
Customised eBay listing template which can be updated via the website.
Monitoring views of eBay listings with our bespoke solution
Bespoke image tools to quickly generate mockups and product images for their designs
Allow customers to fully personalise their chosen products
Management of email newsletters and subscriptions
Multiple payment gateways
Easy-to-edit homepage so they can quickly change seasonal banners and promotions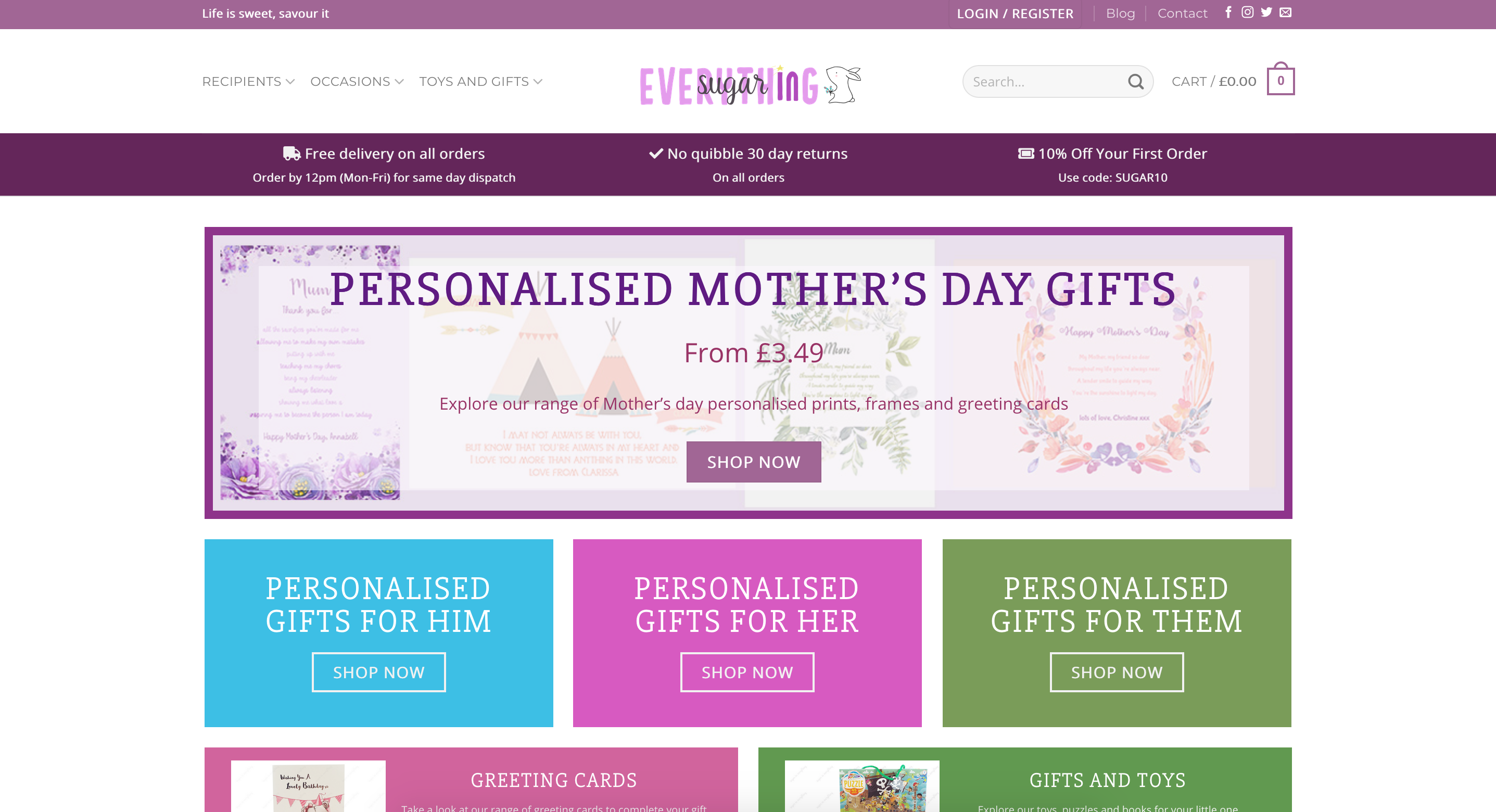 WooCommerce design and development
We provided Sugar In Everything with a custom branding and design to suit their requirements.
The website allows their customers to personalise their products and order them online securely.
The pages are fully flexible and allow regular changes to be made with ease for sales, promotions and seasonal banners. 
The enhanced search means that customers can find relevant products even if their search term has a typo in to provide the best experience.
We went to Cube with a few simple ideas for our new website. Cube were able to discuss our requirements and convert them into a proposal that helped us understand the best practices for selling online on our own website. We never imagined running the eBay side of our business could be so well integrated and we've saved so much time by only managing our products from our website and having them automatically update on eBay. Once the main project was completed we've come back to Cube for various additional tools to help our business - which they provided and also added their own touch to make even better.
Looking For An E-Commerce Website?
Why not get in touch to discuss requirements for your e-commerce website – whether you're looking for someone to update your existing site, or starting from scratch we'd be happy to help.